Objective
Setting up OpenVPN Client on an Asus Router with PFSense Setup as the OpenVPN Server.
Prerequisites
OpenVPN Server setup on PFSense with Remote Access (SSL/TLS + User Auth)
OpenVPN Client Export Package installed on PFSense OpenVPN Server
OpenVPN Server PFSense containing Certificate Authoritie
Asus Router with GUI Access
Steps
Step 1: Download the .ovpn file
Navigate to VPN, then OpenVPN. Select Client Export and tick the checkbox under Legacy Client.

Once done, scroll down and select "Save as default"
Under your OpenVPN Clients, navigate to the user and select "Most Clients" under Inline Configurations.

You should be downloading an .ovpn file after selecting it.
Step 2: Modifying your .ovpn configuration file
Open up the .ovpn configuration file with a text editor. (e.g. Notepad, Notepad++)
Search for the line that contains "ncp", it should be located under the first 5 lines of the configuration. Erase that line and save your configuration
Step 3 : Setting up OpenVPN Client on Asus Router
In your Asus Router Web GUI, navigate to Advanced Settings, then VPN.
Select the VPN Client Tab, and then Add Profile.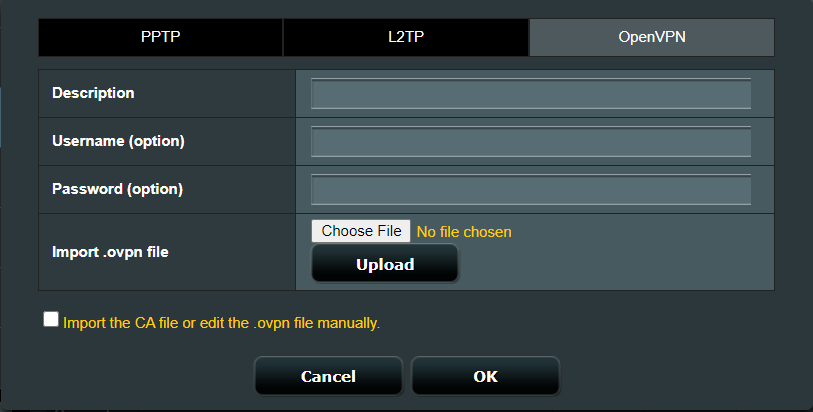 Under the Profiles, select OpenVPN. Input the username and password as setup in PFSense User Manager.
Select "Choose File" and upload your .ovpn file. After that, click upload. It should show a "Complete" message after that. Select OK and your VPN entry should be setup.
Step 4: Activate the VPN connection

Select "Activate" on your newly added VPN Profile. A Tick icon should appear after awhile. If you haven encountered a Cross Icon, you may navigate to System Log under Advanced Settings to diagnose your error message.